Get Connected through Giving
We believe in tithing, giving 10% of our income unto the house of the Lord, out of obedience to His Word. We believe the whole earth belongs to the Lord and all that is in it; and when we give unto the Lord, we are obediently giving to him that which He first gave unto us. We do not believe in fund raising of any kind but "faith raising" to the level of obedience to His word. We also financially support this ministry through "Freewill Offerings" and "Pledges" toward the vision God has given unto this house.
Give Online
Text to Give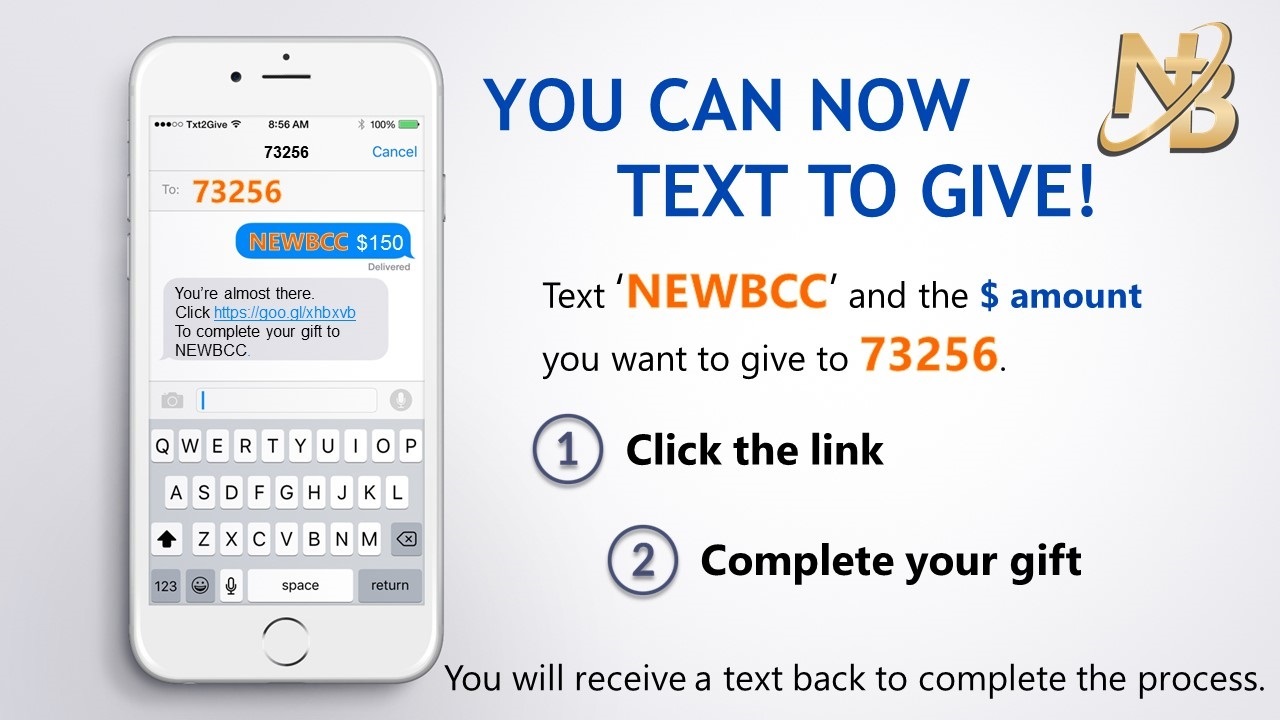 Giving Statements
Giving statements can be downloaded by logging into your REALM account
Select "Giving" then select "SEE MY GIVING STATEMENT' at the top right.
If you have questions regarding your contributions, statements, financial matters and all other general questions, please email administration at nbcc@newbcc.com.
When you register for events or make a donation on our website, certain information is required to process your online registration/donation. The information collected in an online transaction may include, but is not limited to, your name, credit card information, postal address, phone number, email address, and other demographic information. Because your privacy is of the utmost importance to us, we have taken steps to ensure that online transactions through our website take place via encrypted secure servers. All the information you include and submit with your transaction is passed through our encrypted secure servers.
Tithing
Tithe Challenge

"Bring your full tithe to the Temple treasury so there will be ample provisions in my Temple. Test me in this and see if I don't open up heaven itself to you and pour out blessings beyond your wildest dreams. For my part, I will defend you against marauders, protect your wheat fields and vegetable gardens against plunderers" (Malachi 3:10-11 MSG).
The above passage was spoken by God to his people about tithing. The word "tithe" literally means a tenth. God asks that we return to him 10 percent of what He's given us, because it belongs to Him. In return for our faith in him, God promises to bless and protect us.
And that's what the 90 Day Tithe Challenge is all about! Essentially, it's a challenge to you based on the promise of Malachi 3:10-11. If giving away 10 percent of your income is more than you're prepared to commit, don't let that stop you. Start somewhere! Choose a percentage to give, and take the challenge.
Budget Worksheet
"And we know that all things work together for good to those who love God, to those who are the called according to His purpose."
-Romans 8:28